Get Noticed While Staying Green
What is the Elf?  If you have not heard about it already here is a quick summary.
The Elf is celebrated as the "future of urban eco-mobility." It is a sun-powered trike that pedals like a bike. The Elf also has an electric range expanding power-assist feature to get riders around town more quickly and with less sweat. For those Elf riders that want a quality workout, they can simply turn off the power option and ride the trike as a more traditional bike for a cardiovascular workout.
Zero emission marketing vehicle.
The Elf has another potential use beyond an emissions free work commute.  The trike can also be used as a zero emission experiential marketing vehicle.  The Elf address the three requirements placed on any marketing vehicle; drawing attention, filling the logistical needs of the campaign, and supporting the vision of the campaign.
The Elf definitely falls into the attention drawing and novel category. It looks like a pod from the future. We have seen 2 Elf trikes, and both were within 40 miles of the manufacturer in Durham, North Carolina. It is safe to say they are currently very unique and different. The white model begs to be branded, even the wheels can be utilized for messaging. Compared to other traditional bicycles or trikes there is a much larger canvas for brand messaging.
If you remember the original Hummer years ago and the new versions of the Mini and Beetle more recently, you'll remember how unique and novel they were in their time. Unique and head turning is key. Unique can also be temporary.  Toyota's FJ Cruiser was a great stand out for about a year before they became too commonplace. The VW micro bus is apparently eternal. The Elf may not be eternal, but it will certainly be a long lived stand out in it's marketing ability.
Logistically the Elf might surprise you. It is not simply an eye-catching billboard; the trike has a potential payload of 350 pounds, including the driver. That means if powered by the average brand ambassador the two storage areas and optional bamboo shelves can be loaded with 150 pounds of samples or marketing materials. That's not a whole lot of soda but for companies like Clif Bar or Bert's Bees it is enough.  With a little ingenuity sunglass maker Zeal Optics could create the world's smallest and greenest mobile sunglasses pop-up shop.
The Elf is not a gimmick that has to be hauled to the venue and unloaded from a trailer either. It has a 14-mile range using the full electric power-assisted option, every time the operator pedals it extends that 14 mile range. On a sunny day the battery can be recharged in around 7 hours. The battery can also be plugged into a power source to charge in less than 2 hours.
Finally the Elf supports the vision and spirit of today's campaigns that seek to give back, contribute, and spread thoughtful ideas. The Elf is a thoughtful idea.  It is a solution to a transportation issue and hopefully a sampling and marketing issue as well.
A company like New Belgium in Fort Collins running off wind power and deeply connected to cycling and the outdoors could utilize the Elf not only as a brand extension at events, but also as a co-branding initiative. New Belgium employees and faithful customers would genuinely be interested in a product like the Elf. Could it be used to sample beer? No, but it could be used to talk about other initiatives, hand out stickers, hats, sun block or lip balm at outdoor concerts, fairs, festivals.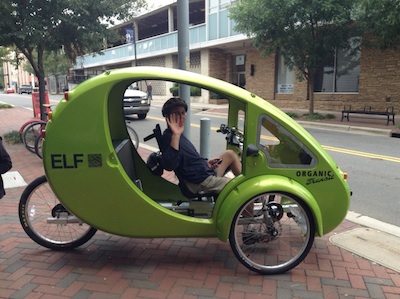 While we wish we could say we had a fleet Elf's on standby, the zero emission vehicle is on a 3 month back order. If you are interested in the leasing the Elf for this summer please contact us so we can place an order accordingly.
If you wish to purchase Elf directly from the manufacturer we also have developed low emission solutions for transporting the Elf between Cities that we would like to talk to you about.
The potential for this zero emission marketing vehicle is so far untapped. These trikes are unique, novel, and environmentally friendly and a great option for marketing products or ideas around city centers and events.